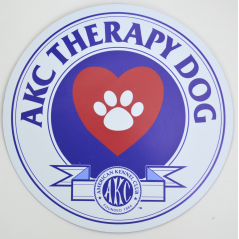 Therapy Dog Titles
AKC Therapy Dog Novice (THDN)
Must have completed 10 visits.
AKC Therapy Dog (THD)
Must have completed 50 visits.
AKC Therapy Dog Advanced (THDA)
Must have completed 100 visits.
AKC Therapy Dog Excellent (THDX)
Must have completed 200 visits.
All dogs are eligible to earn AKC Therapy Dog titles, including purebreds and mixed breeds. To earn an AKC Therapy Dog title, dogs must be registered or listed with AKC and have a number. This includes any one of these three options:
AKC Registration Number (purebreds with registered parents)
This is often known as the "AKC papers" provided to a dog owner by a breeder. If you have received a registration paper from your breeder or previous owner you can register online.
PAL Number (purebreds not registerable)
PAL is Purebred Alternative Listing. PAL (formerly called ILP) is a program that allows unregistered dogs of registerable breeds to compete in AKC Performance and Companion Events. PAL dogs include the many wonderful purebred dogs who may have come from shelters or rescue without AKC registration.
Canine Partners Number (for mixed breeds or non registerable)
Used by mixed breed dogs (and dogs otherwise not registered with AKC such as some purebreds from other countries). A special Canine Partners Therapy Dog Enrollment Form is available for mixed breed Therapy Dogs needing to obtain a dog number in order to receive their Therapy Dog Title. This form must be submitted together with the Therapy Dog Title Application.
Apply for an AKC Therapy Dog Title
If your dog meets the criteria and you would like to apply for an AKC Therapy Dog title, please complete this AKC Therapy Dog Title Application and the title Log and mail to the AKC address shown on the application with a $20 recording fee.
AKC accepts the following forms of payment: Check or money order made out to "American Kennel Club" and Visa, MasterCard, Discover, or American Express.
If your application is not approved due to not meeting the qualifications, you will be notified and your fee will be refunded.